Our Mission
Tradewater's mission is to improve our environment and create economic opportunity through the collection, control, and destruction of potent, high impact greenhouse gases.
Tradewater believes that a company committed to cleaning up the environment can be just as successful – if not more so – than a company that achieves its goals without regard to environmental impact.
We are building Tradewater to prevent the emission of 3 million tons of greenhouse gases annually. All of our work is measured and verified by third-party auditors, resulting in high quality carbon offset credits.
In 2016, Tradewater is formed and a warehouse facility is built in Elk Grove Village, Illinois.
In 2017, we developed our first project in Ghana, followed by a second project in 2018.
In 2018, we expanded into Latin America and formed RefriCazadores in 2019.
We revised international carbon offset protocols for the collection and destruction of old refrigerants with VERRA (2018) and the American Carbon Registry (2019).
We have grown from 6 to 30 employees over 4 years and injected over $28.8 million into the local economy so far.
In 2019, we reached 4,000,000 tons of CO2e destroyed.
4,660,000 tons of CO2e destroyed to date
More than 1,000,000 pounds of CFCs destroyed to date
Each CFC molecule destroyed saves 100,000 molecules of ozone
44 projects credited by the American Carbon Registry (ACR)
2 projects credited by VERRA
44 projects credited by the California Air Resources Board (ARB)
Projects developed on three continents
Over $28.8 million invested in communities
A total of 71 verifications completed
Our projects help prevent runaway climate change by removing potent gases before they leak into our atmosphere. They are a key part of the IPCC's pathway to achieving net-zero greenhouse gas emissions by 2050. Learn more about Why This Work Matters Now.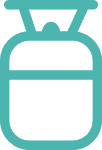 Refrigerant
Our refrigerant projects are conducted pursuant to scientifically reviewed protocols established by the California Air Resources Board, American Carbon Registry, and VERRA, and each project is independently audited to ensure full compliance. This work is ranked the number one approach to fight accelerated global warming, according to Drawdown.
Mine Methane
Our mine methane projects destroy methane from abandoned coal mines following protocols established by the California Air Resources Board and are independently audited.
Innovation
Tradewater's commitment to reducing greenhouse gases and creating economic opportunity continually drives us to innovate.
International Scale
We believe strongly that the international commitment to greenhouse gas reductions in the 2015 Paris Climate Accord establishes the necessary conditions for Tradewater to collect and destroy greenhouse gases before they reach the atmosphere. Therefore, we are building greenhouse gas collection networks all over the world.
Advanced Analysis
In order to track, measure, and demonstrate the environmental impact of our projects, we are developing sophisticated data management and analysis systems.
New Technology
Tradewater is expanding our portfolio of methane reduction projects. We are working on research and development efforts to identify new technology to eliminate methane emissions while creating value-added products.